Thursday, July 23, 2009
Mustang SPIRIT demonstrates for his wild family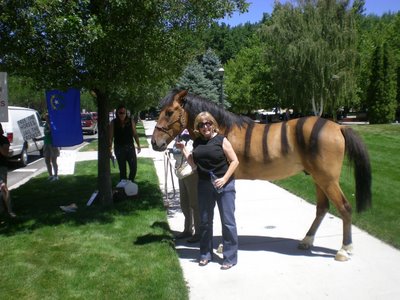 Dear Readers,
Near the end of the Wednesday demonstration, I talked with SPIRIT (yes he's painted with non-toxic "jail bird" stripes & the sign nearby says NO DEATH ROW HORSES) and his pal Betty, one of the most energetic wild horse crusaders around!
Petition delivered!
I'll have more details and photos for you yesterday.
If enthusiasm and dedication counts, we'll win this one.
Shirley Allen (the wild horse angel) has all her babies safe at home!
Terri
Below is an new article which tells the latest. The reporter interviewed many people on a sizzling hot 100 day, to get the job done right and we're all grateful!
Horse Advocates Rally Against NV Administration
CARSON CITY, Nev. (AP) - About two dozen wild horse advocates
rallied outside the state capitol complex on Wednesday to protest the Nevada Department of Agriculture's handling of the animals.
Critics claim the agency has rescinded agreements with groups that work to find homes for the animals taken from the Virginia Range, and is taking shortcuts to get rid of them through private, non-advertised sales.
"We have people in our Department of Agriculture that we feel are not following the will of the American people," said singer-songwriter Lacy J. Dalton, who lives near Virginia City where many of the state-managed mustangs are located.
"This administration wants this state out of the horse business," she said.
Ed Foster, spokesman for the agriculture department, said the agency did rescind some contracts, but has retained others.
"We have total authority to work with whoever we want to work with out there," he said. "We work with groups that have positive results.
"We're 100 percent above board."
Dan Burns, spokesman for Gov. Jim Gibbons, said the criticisms are being investigated by the agriculture department and the state attorney general's office.
"At this point, we're still waiting for the results," Burns said.
He added that the animals are part of Nevada's heritage and issues related to them always been a "highly emotional, highly charged."
Demonstrators carried signs reading "Savum," "Give dirty politics the broom," and "Save our mustangs."
On woman, Betty Retzer of Stagecoach, showed up with her adopted
mustang, "Spirit," whose coat was painted with black stripes.
"He's a jail bird, because we want to free the horses and jail the crooks," she said.
Debate over the horses ratcheted up last year when the newly
appointed agency Director Tony Lesperance said the state, faced with the prospect of $900 million-plus revenue shortfall, couldn't afford to buy hay to feed the animals even though some may be starving.
He also said that while people refer to the horses in the Virginia Range as wild, they're mainly strays - horses set free by their owners - and he would come up with a plan to remove many of them.
Mike Holmes, former Virginia Range stray manager for the department, was among those demonstrating Wednesday in Carson City.
Holmes said he was laid off in early July when his job that involved coordinating with wild horse advocacy groups to find homes for the animals was eliminated.
"We have always been able to get these horses adopted," he said.
Foster countered that Holmes' departure was strictly a budgetary
issue.
Foster added that the agency is working with counties that surround the Virginia Range region to assist in dealing with the horses that become a problem, or are found wandering or injured.
"Our director has gone to great lengths to talk to county people to get them to help us with these issues," he said.
Permalink to this blog post
Posted by Terri Farley @ 8:33 AM


---
Comments:
Spirit is such a beautiful, horse. Mustangs = Forever Free!