Friday, September 25, 2009
Hoofbeats and Heartbeats: if you can't tell the difference
Dear Readers,
Many of you want to rescue a wild horse, but you a)don't have the land
b) don't have the money or c)don't know how to persuade your family to allow you to do it.
Still, I know you don't want to look back with regret, saying, "Once there were wild horses and I loved them, but I let them go..."
Every day, others talk to Senators about wild horse legislation, they discover hasty round-ups and tell us about them, negotiate with caring vets, and try to figure out how to help wild stallions that glare through their forelocks, not wanting human help. Now you can help them help wild horses.
The Phantom knows such organizations first hand,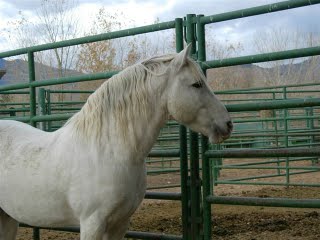 and because wild horse angels like YOU deserve recognition, I'm offering gifts to the people who help!
Keep reading...
Chilly Pepper the Miracle Mustang
was rescued by my friend Palomino, a volunteer for the Wild Horse Sanctuary, home of the real Phantom. Chilly's fund for mustang orphans will accept any donation, no matter how small, and send you a thank-you postcard from Chilly, featuring her beautiful portrait! You can donate here:
MIRACLE MUSTANG fund
The BLM round-up in the Pryor Mountains robbed many older horses of the only life they've ever known. Conquistador is no longer a proud band stallion. He is number 5336. 21 year-old Grumpy Grulla is no longer a lead mare. She is number 5321. The Cloud Foundation's Freedom Fund will buy and transport older Pryor Mountain mustangs back home.
FREEDOM FUND
Wild horse angels deserve recognition, so I'll send free gift books to the first 50 angels to send PayPal donations of $15 or more to any of the above organizations.
Visit
PHANTOMSTALLION.COM
to "shop" for the title you want. I'll do my best to fill all requests.
When you donate, make sure you indicate GIFT BOOK and make sure the fund manager has your address so that I can mail your gift post paid.
MONEY isn't the only way you can help!!!
Email your feelings now to :
Ramona_delorme@blm.gov
In your subject line: WH&B Advisory Board Comments (they're next meeting in MONDAY!)
Feel free to borrow my words:
I don't want to look back with regret, saying, "Once there were wild horses and I loved them, but I let them go..."
GO GET 'EM !!!
Terri
Permalink to this blog post
Posted by Terri Farley @ 10:47 AM


---
Comments:
Hey Terri, I have some money I've been saving up so maybe I'll ask my mom to help me do the paypal thing =)
You're great & I'll send you some extras, since you're a long time PHANTOM fan!
Hugs,
Terri