Monday, April 26, 2010
The rest of the story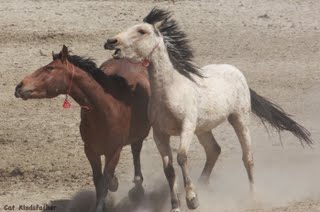 To those of you who wanted more of the scene with the young stallions -- here you go!
Best,
Terri
Permalink to this blog post
Posted by Terri Farley @ 3:35 AM


---
Comments:
They look like they're fighting or bickering. Is this stallion trying to teach the other a lesson?
naw...Stallions fight naturally; this is called a Turf War; why?
See Stallions ususlly live alone; they don't herd up naturally; unless very young; see a Stallion can smell the Scent of a Mare from 10 miles away...so say the BLM puts 50 Stallions together in one pen; and say there is a pen of Mares next door; well the Stallions catch the scent of the Mares and they begin to tousle and nip each other; this is normal; what is NOT normal is: PUTTING A BAND OF STALLIONS IN THE SAME PEN;
The BLM does not know how to separate the Stallions into individual pens;
so they group them; this is unnatural and does not copy Mother Nature Rules...My case is this:
THE BLM VS. MOTHER NATURE !
I know who I place my "bets on! lol