Friday, July 24, 2009
WILD HORSE demonstation July 22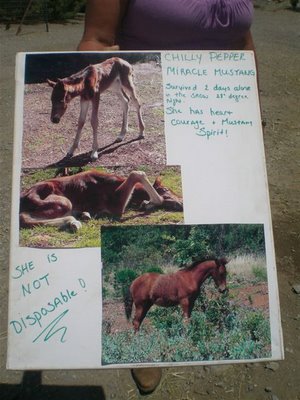 Dear Readers,
The wild horses have lots of friends.
Above, you'll see a poster carried by Palomino, a seven year volunteer at the Wild Horse Sanctuary of Shingletown, CA., showing before and after photos of Chilly Pepper, the orphan she saved from freezing and starvation. In Nevada, foals like Chilly have been cared for by volunteers. Under the current Director of Agriculture, that may stop.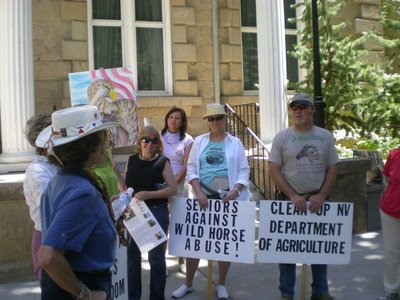 Even on a midweek 100 degree day, wild horse advocates turned out to inform voters and government officials about misappropriation of funds that the legislature awarded the Nevada Department of Agriculture for overseeing wild horses. Here, Bonnie Matton (her back's to you, but she's wearing her patriotic cowgirl hat!) gets ready to deliver petitions to the governor's office.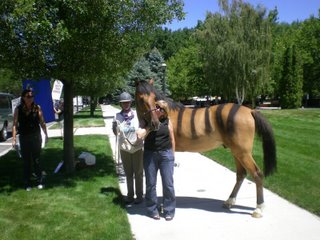 Above, I'm cuddling with Spirit. He's the wild horse companion of Betty Retzer (in helmet) and he's painted with "jailbird" stripes because so many of his mustang family members have been unjustly given life sentences in captivity.
Thanks to all who signed the petition. If you haven't had a chance to do that yet, click
HERE
. We'll keep delivering them as long as new signatures are coming in!
Best to you,
Terri
p.s. photos courtesy of Sharon Lamm
Permalink to this blog post
Posted by Terri Farley @ 7:12 PM


---
Comments:
Champion! I realllly wish i could have gone to the rally... i live too many states away. Thanks for representin us Mrs. farley
~HF
I agree with "~HF"!!! Thanks mrs. farley.
I remember chilly pepper, and spirit is a real beauty!