Wednesday, August 19, 2009
Teaching Humans a Thing or Two
Dear Readers,
On August 7, a bunch of wild horses and their people gave students a wild West class in what it means to be a mustang.
I was asked to speak about my books and my friend Cindi spoke about her own wild horses and invited the students to the Wild Horse and Burro Expo.
Of course every wild horse and the people who care for them are stars in my eyes, but I wanted to show you a sweet photo of Chilly Pepper, the miracle mustang who was rescued on her second, snowy day of life from beside her dead mother.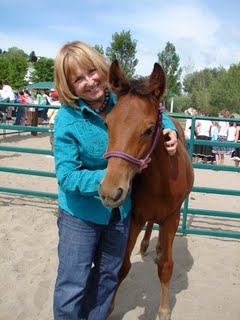 Isn't she great?
And here she is with Sam -- yep, you read right -- one of my long time readers.
Sam is an intern at the Wild Horse Sanctuary in Shingletown, California and she and her sister both love wild horses!
More photos tomorow!
Happy trails,
Terri
Permalink to this blog post
Posted by Terri Farley @ 1:42 PM


---
Comments:
Great pictures!
HORSE CHECK!
Actually that's Sam with pretty baby RIO!