Friday, August 21, 2009
What Will They Say?
Dear Readers,
Call me morbid. In adult writing workshops,I sometimes ask people to write their own obituaries. And that makes me wonder what people will say about me after I'm dead.
Will I be called kind? Will they say I wrote good books and valued the right things? Or is there something else huge between now and then that will overshadow all of those?
I can tell you this: any kindness or care for the weak that I've shown is absolutely
D W A R F E D
by Shirley Allen.
A few weeks ago I told you about a petition aimed at stopping Nevada's Department of Agriculture (NDA) Director Tony Lesperance from ordering the deaths of orphan mustangs. The state veterinarian threatened Shirley directly, saying the orphan foal
Rio
could be seized and killed.
Shirley may have gentle hands, but she has a cowgirl's backbone. She not only stood up for the wild foals, she taped the threats and that's why they're on YouTube!
And, since I'm lucky enough to see Shirley "wild horse angel" Allen quite often, I thought I'd give you an e-introduction with these photos of her kissing Chilly Pepper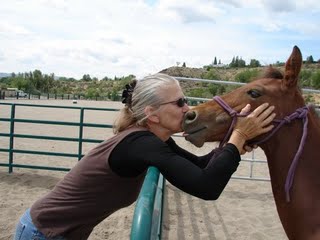 and cuddling
RIO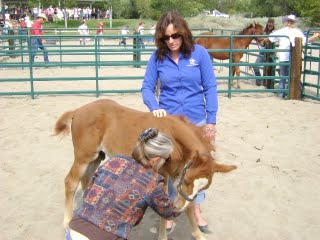 If you haven't signed the petition to save Nevada's orphan mustangs yet yet,
please
go to :
Petition to Speak Up for Wild Horse
Permalink to this blog post
Posted by Terri Farley @ 2:17 AM


---
Comments: