Wednesday, October 21, 2009
This is How I Roll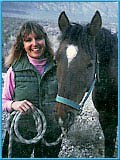 My first ever cattle drive with the real Ace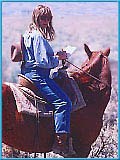 Riding the real Nike while taking notes
Permalink to this blog post
Posted by Terri Farley @ 3:23 AM


---
Comments:
Love those pictures!! Especially the one of you taking notes!
I have a friend who is a writer- Persia Wooley. We took her to the Draft Horse Classic. I'm wandering around with her in tow, and suddenly she disappears!
I turn back, look all over- no Persia! Where the heck did she go? I look high...
I look low- Voila! There she is- underneath a big wagon sketching the running gear into her notebooks!
It takes a writer to appreciate that story...:)
BTW- your stirrups were too long!
HI!
I love the Persia story! My husband asked me why I was chuckling,alone, in the dark...
And yes, I paid for those stirrups, and my "that's good enough" moment(s) !
Don't you love it when you start laughing in your own little world?:) I think I've told you this before (in an email) but sometimes I'll be reading one of your books at school, in a somewhat-quiet room, when there's a sub or something and I'm done with my 'busy work', and I'll laugh/giggle/snicker/etc out loud, and people stare. Life is good.:)
There's a real Nike? That's awesome!
Ace's facial markings remind me of the pony I ride--he's got a star and a little snip, too. And that snip is usually coming towards you, looking for something to eat. Like cell phones.
Only a writer could ALSO understand how I take out my little itty bitty notebook and scribble in it frantically at the weirdest times, or how I write ideas on any scrap of paper nearby lest I forget them (which has actually happened, much to my remorse)...like on homework (!) and random pages of the notebook I write in (whichever page I'm currently on--whether it is relevant or not) and on sermon notes sheets (yes, I was paying attention!lol) and etc...:)
~quarterhorseyes