Sunday, November 22, 2009
Heart too full to know what to say?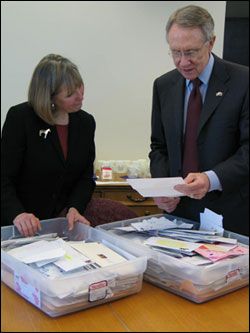 Dear Readers,
That's me, delivering hand written and horse decorated letters from my readers who have a HEART FOR HORSES to Senator Harry Reid, a few years ago.
But the horses are still in trouble, and we need to do it again, this time directly to the BLM.
HOWEVER ----- I'm hearing from lots of you who want to stand up for the horses, but doing know what to say.
Here's a sample letter you may modify to fit your thoughts and feelings. Please feel free to share it with your friends, parents and teachers.

Dear Secretary Salazar:

The Bureau of Land Management has rounded-up thousands of America's wild horses. Now, it may kill them. Over and over again Americans have said their horses must run free, but that hasn't stopped BLM from saying that killing wild horses is a "magic bullet for budget problems."
Instead if spending millions of dollars on flashy helicopter round-ups, please halt all round-ups until independent observors can assess range conditions and take accurate counts of wild and domestic animals on the land.

Don't hope our wild horses can balance the budget with their lives.
I want them to still be roaming free when I finally get the chance to see them.

Sincerely,

Your name & your age
Letters can be mailed to:
Terri Farley, 565 California Avenue, Reno, Nevada 89509 and I will deliver them for you.
Permalink to this blog post
Posted by Terri Farley @ 10:45 AM


---
Comments:
Is it ok if we make our letters more personal and state our opinions? Im sending my letter in shortly. thanks for supporting this cause
~HorseFeathers
Absolutely, HorseFeathers!
I think that's even better.
Can't wait to see your letter!
Thanks for the sample letter; I thought I'd know what to say but now I'm struggling to say anything...:D
~quarterhorseyes