Sunday, February 28, 2010
Visiting Day at the Feedlot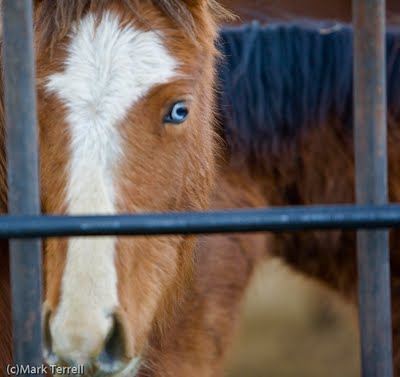 Dear Readers,
Two hours each week, the public is allowed to see their captive wild horses at the feedlot style corrals in Fallon, Nevada. So I went today.
What I hated most was a group of young ones trying to do the truly joyous "let's run!" thing and have four of them end in a pileup because there were so many in such a confined area. Lots of fresh freeze brands on the mares. Even the ones in hospital pens.
I will transcribe my notes soon, but I have to say the most surprising thing I heard
was that the gather/facility death toll was LOWER than than it usually is because the Calico horses are less "crashy" (further defined as prone to spooking) than horses from other herd areas.
The official death toll posted by BLM was up to 57 on Friday and one member of our group was told four more died Saturday.
Oh, and the word "processing" (for vaccinations, freeze branding, age determination, etc) has been struck from BLM vocabulary and the official word is "preparing."
I'm sure that makes it feel better.
T.
Labels: BLM, Fallon corrals, feedlot, mustang deaths, wild horses
Permalink to this blog post
Posted by Terri Farley @ 9:50 PM


---
Comments:
Just (sadly) wondering; how does the death toll from capturing them get so high? Is it from trauma, falling in panic, sickness once they get to the pens, or something else entirely? How many round ups do they do each year? It saddens me greatly to think that the numbers are already so small, and with 57 deaths from one gathering...nothing looks very positive for the mustangs.
I would much prefer to see the mustangs in the wild, where they should be, but if the horses are captured and brought to holding pens anyway, one day, I hope to have enough horse experience to adopt one.
Thank you Mrs. Farley for providing a branch between readers and horses, and best hopes for the horses.
Is this called "rewriting history?" It's the same thing as roundups not being called that--because it would be seen as a negative. They call it "gather" because of the positive spin its suppose to have.
But we know the truth.
On behalf of Courage and Hope (the two youngsters who had their feet ripped off of them) I will again write my letters today.
Terri, I was at the Tobin Round up in Nevada but didn't have time to go to Fallon. Do you by chance have a way to video tape some footage I can use in the rough cut for my film series episode? It's called Wild Horses In Winds of Change. You can check out the blogspot at www.wildhorsesinwindsofchange.blogspot.com then link up if you like. There are 8 short videos on the subject, mostly featuring adoption - however the documentary has much more context about the situation for the mustang. skydancer@frontier.net
Poor foals, I hope these horses have better luck very soon.
-Nevada Sunshine