Tuesday, April 27, 2010
You Do the Math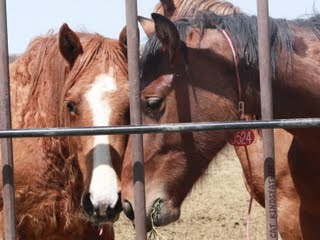 Cat Kindsfather's My Family, My Future, My Heart
Dear Readers,
Today I'll be attending the trial of two men accused of killing five wild horses.
Reno, NV --Wild horse advocates are coming to Reno on April 27, 2010 to witness Todd Davis and Joshua Keathly make their first court appearance for allegedly harassing and killing five federally protected American wild mustangs—shot on or about November 28, 2009 in Washoe county, Nevada. U.S. Magistrate Judge Robert A. McQuaid, Jr. will preside in Federal District Court, 400 S. Virginia Street, Reno.

Wild horse advocates find it unsettling to learn that Davis & Keathley are only charged with one count of causing the death of five wild horses for each man. Advocates are calling for charges of five counts, one for each horse as is standard with murder cases. If convicted of one count, each man will face a maximum of one year in prison and a maximum $100,000 fine.
I'll be taking notes and letting you know what happens.
Best,
Terri
Permalink to this blog post
Posted by Terri Farley @ 2:15 AM


---
Comments:
Has anyone seen the Stallion, Freedom, who broke out and headed back to his mountain?
HI Debbie,
I haven't heard anything about him, but I know many of us are alert.
Check out Elyse Gardner's blog for updates, too!
Terri
http://humaneobserver.blogspot.com/
When will the update on the "killers" be posted?
They will return to court at the end of this month. I'll check on the date and post it.
Hi Terri
are you doing daily posts?
I haven't been able to find any of your daily posts for a while
any suggestions? faithfully; anne
Hi Miss Farley! I know this is off topic but I just read your books and I was wondering if...if Jake likes Sam? Like, will they get married someday? That would be cool! Was it your intention to have them like each other or was I just reading between the lines too much?
I am commenting to my own photo, "My family, My Future, My Heart".
My heart breaks every time I look at this picture. I remember their sorrow and pain. The hay just hanging in his mouth, totally despondent. It hurts so bad to see this again. And no pain killers either!!! Barbaric...