Monday, April 20, 2009
Told you it was a cool school visit!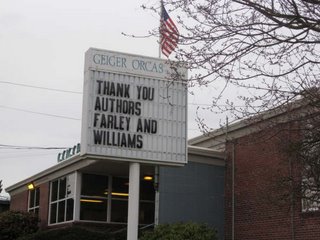 The Orcas rock!
Permalink to this blog post
Posted by Terri Farley @ 3:07 AM


---
Comments:
THAT IS COOL!
Awesome! Where did that happen?
Terri, I was wondering, are you related to Walter Farley? He wrote Black Stallion.
HI!
The photo was taken at a Tacoma school turning my trip through the Pacific Northwest. We -- the Williams is my pal Suzy, author of BULLRIDER -- visited 15 bookstores and 3 schools.
Crazyreader -- I'm not related to Walter Farley, but I'm sure when he was alive he loved horses, too. As you've probably noticed, my stories take place far from the world of Thoroughbred racing and one of the reasons Samantha is my heroine is that most adventurous horse stories I read while growing up had boys as the main characters.
That is so cool!