Monday, August 24, 2009
Wild Horse Island for Real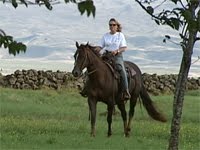 Dear Readers,
I just found this snippet from Hawaii's Horse Expo (hope I can go next year!) and thought you'd like to watch -- not just for the horses, but for the scenery. Look at those rolling hills and the sky that dominates everything beneath it!
Hawaiian Horse Country
Just another day in paradise,
Terri
Permalink to this blog post
Posted by Terri Farley @ 3:40 AM


---
Comments:
That is so beautiful! I wish I could go there!
Cool video! I didn't really get to experience it as much as I would have because my computer doesn't have sound, but that's OK.