Tuesday, March 02, 2010
Dressage Mustang needs a home
Dear Readers,
I'm awaiting news from BLM in Reno, hoping to know why no updates on activities, injuries and deaths at the Fallon facility haven't been posted since last week.
This has me worried.
However,
I know lots of PHANTOM STALLION readers are fans of Jake, whose family heritage is Shoshone, so I had to show you Sequoia.
If you want a gentled and trained companion with wild blood, whose mother roamed Shoshone tribal lands, please read on and feel free to share this with other dressage and mustang fans.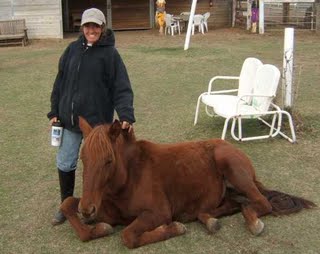 DRESSAGE MUSTANG LOOKING FOR A NEW HOME.
Here's a great chance to take over the adoption of a professionally trained Shoshone Indian (Dann Sisters) mustang.
Sequoia is a 15-2 (and still growing) four year old mare out of a Dann Sisters mare. She was originally a W.I.N. horse placed by LRTC. She has been professionally ridden three times a week for close to two years and is in training as a dressage prospect. According to trainer Holly Love, Sequoia is a "big mover" with potential. Holly says that she hasn't pushed Sequoia really hard into collection, etc., because she's still growing, but she feels that the mare is coming along well. The mare has also been ridden outdoors and given this past California winter, "She's gotten used to being ridden in mud."
Sequoia needs a new home since due to economic conditions her adopter can no longer keep her.
Sequoia is presently located in Knightsen, CA (near Stockton, CA) For information about her training history please write dressage trainer Holly Love windream@dishmail.net.
Sequoia has documented origins and Shoshone horses qualify to show at the Western States Wild Horse and Burro Expo. Given her size and training, Sequoia could make a great show prospect!
Permalink to this blog post
Posted by Terri Farley @ 1:43 PM


---
Comments:
Where is she located? I might be getting a horse soon and I'm looking for local areas.
~HorseFeathers
Sequoia is in northern California
She is beautiful, and looks very trusting, since she is letting someone stand by her while she is lying down. I already have a horse, and don't need another, but whenever I see ANY horse, I'm in love.
Horse-itis is a disease, but I'm glad to have it. I think the checkbook would disagree.
Oh my gosh : ) She's beautiful!!!!!! I really hope that someone will fall in love with her, like we have, and give her a nice home.