Thursday, March 11, 2010
MUSTANG as MUSE
For Immediate Release
Website: www.tahoeartgallery.com
Press Release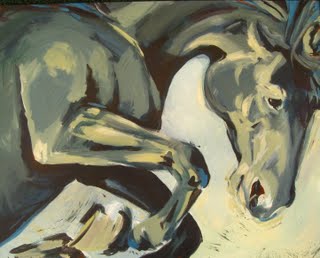 Horse HeART Event Features Art and Horses
Wild horses and artists: what traits do they share? Tenacity . . . adaptability . . . intelligence? If those sound like handy qualities to have in these tough economic times, you will appreciate the thinking behind Horse HeART, an upcoming equine art exhibit, art competition, and fundraiser to benefit wild horses, hosted by Art Attack Gallery in Incline Village, Nevada. Featuring art that evokes the kindred spirit of horses and artists, Horse HeART seeks to inspire viewers to negotiate the economic recession with flare.
"We chose the Mustangs as our muse because they epitomize the kind of resilience that we all need," explains Mark DeSautel, owner of Art Attack Gallery. Horse HeART will run
March 12 through April 12, 2010, with a wine and chocolate reception on Saturday, March 13, from 4-8 pm.

For the Horse HeART event, Art Attack Gallery is teaming up with the Let 'Em Run Foundation, a non-profit organization co-founded by country western singer, Lacy J. Dalton, working to preserve wild horses. Proceeds from a reception-night raffle, featuring such enticing prizes as a springtime guided adventure to see wild horse herds with their new foals and art prints by participating artists, will go to the Let 'Em Run Foundation. In addition, Art Attack Gallery will donate a portion of the proceeds from art sales to LERF.
A national call to artists for the event has drawn outstanding entries from regional artists as well as notable artists from throughout the United States. The exhibit will feature 50 original equine-themed art works including paintings, sculptures, and photographs. Noting that the arts community and non-profit organizations have been particularly hard hit by the economic downturn, gallery owner DeSautel says, "We hope to inspire horse enthusiasts and art lovers to support the exhibiting artists and the Let 'Em Run Foundation with this festive event."
Art Attack Gallery is an award winning premier art gallery located at 868 Tahoe Boulevard, #13 (Christmas Tree Village) in the heart of upscale Incline Village, Nevada on the north shore of Lake Tahoe. They have been representing fine contemporary Western art in the relaxed atmosphere of their 3500 square foot showroom since 1989
For more information about the work to preserve Wild Horses, please visit the Let 'Em Run foundation's website at www.letemrun.com or the Wild Horse Preservation League's website at www.wildhorsepl.org.
Labels: WILD HORSE ART
Permalink to this blog post
Posted by Terri Farley @ 9:34 AM


---
Comments:
Wow this is some amazing work! I love it, espeicaly because it depics horses. Grand event..
~HorseFeathers
http://jksroughstring.blogspot.com/
Check out Life on the Rough String. She has some great links and information about adoption and training!