Saturday, March 19, 2011
All is Well on the Big Mountain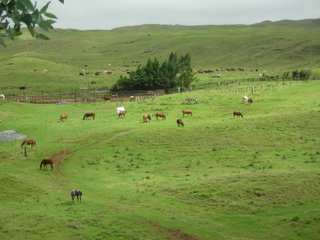 Dahana Ranch, heaven for horses
Dear Readers,
My Hawaiian friends are all right. You asked & I'll tell you more in a minute.
Backstory: At the Vacaville library and in this blog, I talked about destructive tsunamis and earthquakes in Japan. I talked about learning lots about these natural forces as I researched SEA SHADOW and other WILD HORSE ISLAND stories.
I discovered I wasn't the only fascinated (and fearful) one. Six copies of SEA SHADOW went with me to the library & I came home with none.
So, here's what's up in the Islands...
Kylie
on Oahu, was inland at college and safe, but her family (with all of their pets) were evacuated from the coast and headed up to see her at the dorm...
Linda
, my friend & Maui librarian said they were fine, but I must check on Seabury, her school. My visit there is a wonderful memory...
Kuuipo
', at college in Wyoming, was worried about her family on the Big Island. Their Dahana Ranch is inland, but they've had so many earthquakes. I heard from her step-mom
Kiyo
, " that though the nearby cities of Kona and Hilo had some damage, "all is well over on the big mountain."
Thanks for caring,
Terri
Labels: earthquake, Hawaii, Sea Shadow, tsunami, wild horse island
Permalink to this blog post
Posted by Terri Farley @ 9:13 AM


---
Comments: