Friday, December 04, 2009
Madeleine's Mustang Mascots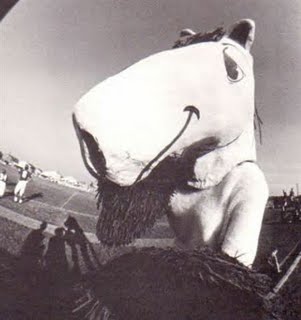 Dear Readers,
I've had an avalanche of requests for this oldie-but-goodie photo of me as my high school MUSTANG mascot and I'm guessing it's because
Madeleine Pickens
(please visit her website if you haven't, lately) is working with sports teams to find yet MORE supporters for our wild horses.
So, here it is!
Still kickin' up my heels for the horses,
Terri
Permalink to this blog post
Posted by Terri Farley @ 1:03 PM


---
Comments:
Ha Ha HA! That is original! I luv it! Thats one mascot i wouldnt hesitate to represent.
~HorseFeathers