Friday, March 19, 2010
Medicine Hat Found?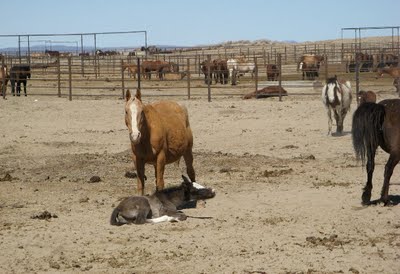 Dear Readers,
Nevada horse activist Dorothy N. took this photo at the Fallon wild horse corrals on Sunday. We think the horse in the second corral from the front -- follow a straight line back from the gray foal's muzzle, past the prone horse just past the next set of bars -- the one with his adobe and white colored head hanging low, might be the Medicine Hat stallion.
What do you think?
Terri
Permalink to this blog post
Posted by Terri Farley @ 4:48 PM


---
Comments:
I think It could be the Medicine Hat...I looked at the larger version of the picture, and it's definitely a paint of the same two colors...
The group that went out today (Sunday) didn't spot him.