Saturday, July 31, 2010
The Equine Spirit
Dear Readers,
It's been a long time since I first saw the wild horses of Nevada. From the moment I did, I knew I had to write about them -- especially the colorful and family-bound horses of the Calico Mountains. When the Phantom Stallion galloped into my imagination, his homeland became the Calico Mountain range.
For years, these real horses lived as they were meant to live.
Now, they've been harassed with helicopters, exposed to disease, tormented with branding, castration and watching their families die and be taken away.
These Calico horses have been through so much and yet, when I was out at PV yesterday, they are still alert and interested, not shattered. The black filly tagged 0950 is elegant and moves like a dressage horse as she follows me along the fence. Shell Flower is friskier than I've ever seen her. The little lop-eared filly known to some as Tassel (that's her, below) has become something of a pet. She nudges other horses out of the way to get more than her share of stroking and chat.
The equine spirit is amazing.
Terri
Permalink to this blog post
Posted by Terri Farley @ 9:07 AM
2 comments


---
Friday, July 30, 2010
Auction Day: Calico Mountain Mustangs
Dear Readers,
Ghost Dancer will be traveling with me to the Wild Horse Sanctuary in California.
Shell Flower won't.
I'd never been part of ANY kind of auction, before (except fictional ones!), let alone an EBay style Internet auction, but my friend Anne advised me to hang back.
I made initial bids on Ghost Dancer and Shell Flower to make sure my computer worked on the Auction website, then waited 'til the last minutes of the auction to bid again.
That doesn't mean I wasn't WATCHING from the minute my eyes opened Wednesday, and I noticed (so did lots of you!) that a Texas bidder -- if you're reading, wow, you have fast fingers! -- had replace me as high-bidder on both horses.
My hands were shaking. My neck got stiff. I spoke harshly to Sherlock the cat when he sat on my lap and tapped the computer keyboard with a gentle gray paw.
And I worried. It wasn't likely, but what if the other bidder had Bad Intentions? I decided I had to make GHOST DANCER my first priority. At fifteen years old, she was listed as a
sale authority
horse. BLM discourages bidders from selling such horses for "commercial purposes" but she could legally be headed for out-of-the-country slaughter as soon as she was in the wrong hands.
BLM, in theory at least, is supposed to keep an eye on adoption horses like SHELL for a year.
But Ghost Dancer won't be traveling to California alone :) !
At the advice of a nice woman in BLM's Eastern States office, I picked a "safety net" horse.
I narrowed my choices down to mares
no one
had bid on.
Among them, I searched for one captured on the same day, in the same place as Ghost Dancer. I found her!
Little sorrel #0795, is now named Sage.
Hug your horses,
Terri
p.s. GHOST is 15 and SAGE is 2.
Who knows? They might even be mother and daughter.
Labels: Calico mountains, ghost dancer, Internet auction, mustangs, Sage, Shell Flower
Permalink to this blog post
Posted by Terri Farley @ 5:09 PM
5 comments


---
Tuesday, July 27, 2010
Last Minute Window Shopping for Calico Mountain Mustangs
Visit, pick your favorite (price is no object), and let us know her/his tag number so that we can compare!
Online Adopt-a-Horse Gallery
Permalink to this blog post
Posted by Terri Farley @ 5:27 PM
3 comments


---
WILD CALICO MARES
Dear Readers,
The Internet auction for the Calico Mountain horses ends in 1 day, 1 hour, 30 minutes and 24 seconds
GHOST DANCER has offered me her story to write. I'm offering her and her bff a place to run in a wild place, even if it isn't home.
GHOST DANCER and SHELL FLOWER will have their own page
WILD CALICO MARES
(under Authoring Change on TerriFarley.com home page) so that you can ride along and watch from a distance.
Happy trails,
Terri
photo by Cat Kindsfather
Permalink to this blog post
Posted by Terri Farley @ 7:58 AM
0 comments


---
Sunday, July 25, 2010
100 degrees outside? Read!
art from Jane Morehouse ©2007
-- too cute to resist & makes me wish I could read to a bunny
Dear Readers,
I stumbled across the GoodReads website via a Google Alert on a page that mentioned my book SEVEN TEARS INTO THE SEA. That was cool, but even cooler was my exploration after that. It's a wonderful website that lets you talk to other people about books.
You can start
HERE
like I did and then strike out on your own adventure.
I just watched the movie UP on Friday night & I believe more than ever -- it's all about the adventure.
Don't skip even the small ones,
Terri
Labels: bunnies, reading, seven tears into the sea
Permalink to this blog post
Posted by Terri Farley @ 11:57 AM
0 comments


---
Wild Horses & Guys
A winter photo to cool you down & rev you up!
These two guys drove hundreds of miles to make their statements about the treatment of wild horses.
I get letters and emails from boys & guys sidling up to me at book signings -- mostly teens -- who are a little disgruntled because people think wild horse activism is just for girls. NO WAY, I tell them, and these two decided to show up and prove it.
You go, guys!
Terri
Labels: BLM, boys, guys, wild horses
Permalink to this blog post
Posted by Terri Farley @ 8:51 AM
3 comments


---
Saturday, July 24, 2010
Ghost Dancer and Shell Flower in PV
Photographer Cat Kindsfather captured Ghost Dancer's open curiosity -- in spite of all she's been through
Shell Flower lipping up some civilized chow
Terri telling Ghost Dancer plans for a jail break
Labels: ghost dancer, Palomino Valley, Shell Flower
Permalink to this blog post
Posted by Terri Farley @ 10:42 AM
1 comments


---
Friday, July 23, 2010
Ride along with me ?
Dear Readers,
My application to bid on Calico Mountain horses during the Internet adoption has been approved!
This is a bittersweet moment. Ghost Dancer and Shell Flower shouldn't have human names. They should be free. While freedom on their home range is out of reach, though, I'll bid on them, and if I'm successful, purchase their transportation to a sanctuary and sponsor them for their lifetimes.
They'll have a website page for right away ; even if I'm unable to keep up with the bidding (they're glorious mares & I'm certainly not the only one who thinks so) the process will be interesting.
This is a brand new experience for me, and I hope you'll ride along.
Hugs,
Terri
Labels: bidding, BLM adoption, ghost dancer, Shell Flower
Permalink to this blog post
Posted by Terri Farley @ 3:00 PM
2 comments


---
Thursday, July 22, 2010
Wild Horse Sanctuary Open House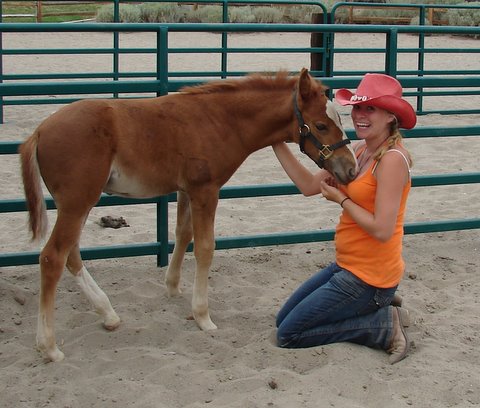 Here, Wild Horse Sanctuary volunteers Sam & Chilly Pepper vist a Reno school.
The California sanctuary has an internationally known internship program for college students.
The Wild Horse Sanctuary in Shingletown, California
HOME OF THE REAL PHANTOM
will host its annual open house on AUGUST 21.
Put it on your calendar now & I'll remind you later!
There just might be additional special guests!
WILD HORSE OPEN HOUSE
Labels: Chilly Pepper, open house, Shingletown, Wild Horse Sanctuary
Permalink to this blog post
Posted by Terri Farley @ 9:07 AM
0 comments


---
Wednesday, July 21, 2010
Tuscarora Mustangs - first photos in captivity
Photos taken by Cat Kindsfather, July 20, 2010 at Palomino Valley Wild Horse Adoption Center
Keep out: Public is not allowed to enter this area while wild horses are processed
Lead mare Silhouette looks toward distress calls of other horses, and then the mares run
Silhouette guards her baby as well as she can
Labels: Palomino Valley, Tuscarora mustangs
Permalink to this blog post
Posted by Terri Farley @ 9:15 AM
4 comments


---
Tuesday, July 20, 2010
Tuscarora Mustangs off the Range
The Tuscarora mustangs neighed, screamed,rumbled in strange lionlike roars I've never heard before -- for one hour and forty minutes.
I don't know how long they'd been crying before we reached the Palomino Valley Wild Horse Adoption Center. I don't know if it's still going on now that I'm home.
I do know it's legal and I could do nothing about those sounds, or the collisions of horseflesh and bones with something that sounded like thunder, on and on and on.
Photographer Cat Kindsfather and I went to Palomino Valley to check on the captive Calico horses and to get a first look at the Tuscarora horses that Alan Shepherd had said, under oath last week, were available for public viewing.
Sixteen mares and six foals were visible. We were not allowed to enter certain areas because other Tuscarora horses were being freeze branded ad processed.
The sixteen mares and six foals called to those in distress. With foals tucked tight against their sides, mares patrolled back and forth in such tight formation, neither Cat nor I are positive of our counts.
These horse are a few days off the range, bewildered and stunned. And this is legal. BLM is doing what it is allowed to do. I don't dispute that, but it is far from humane to confine wild animals who've spent their lives escaping predators and subdue them so that they can be attacked.
An old boyfriend returned from war saying that he always heard distant gunfire. In the grocery store, in church, in his own bedroom at home, an endless tape of combat played in his mind. I hope he got over it.
My ears ring with horses keening, men shouting and the thunder of bodies trying to batter their way to freedom.
Permalink to this blog post
Posted by Terri Farley @ 6:28 PM
2 comments


---
Sunday, July 18, 2010
Old Tuscarora Stud
BLM Nevada NewsEuthanized on Wednesday, July 14, a 20 plus year old blind stud with broken teeth
Here's a stark example of what's wrong with BLM's wild horse plan.
Here's this old guy -- BLM doesn't note dehydration or starvation -- and he's doing okay out there on the range because he's a WILD HORSE.
Wild horses don't depend on sight as we humans do. Smell and hearing are much more important. Besides, he had a lifetime of experience and his herd.
Wild horses depend on each other to reinforce what they hear and smell and if they can't see, others can. This time, the old stud probably shouldn't have obeyed the shoulder bumps and snorts, but he did, following his herd when the helicopters came for them.
I wasn't there.
I didn't see this old boy.
Judging by BLM's press release, this stallion was destroyed because he didn't measure up to what BLM expected in a horse.
And that's just plain sad.
Labels: BLM, Tuscarora, wild horse deaths
Permalink to this blog post
Posted by Terri Farley @ 6:34 PM
0 comments


---
Wild Horse Poetry from a Reader
Memories of a Heartsore Mustang
by Abigail
I am running, my breath coming in jagged gasps
I can feel and smell all the fear around me
This big noisy predator chases us relentlessly
I want to be free from it, but I can not break away
My feet hurt and I want to stop to rest, but I cannot
I do not understand where this predator came from
But I hope it will leave us, let us be free.
I am separated from my family,
Pushed together with unknown horses
They are as scared and confused as I
I am thirsty but the water tastes stale
Where is the grass I am used to?
All we have is some kind of forage it is dry
And tasteless I long for my family and home
But I am not set free
We are pushed in a small space and examined
I try to resist but they are stronger
We are poked a prodded I hurt all over
I try to remember the safety of the herd
My true family but I cannot remember there scents
They are lost to me.
Labels: BLM roundup, heartsore mustang, poetry
Permalink to this blog post
Posted by Terri Farley @ 4:13 PM
0 comments


---
Saturday, July 17, 2010
Calico Horses online adoption
Dear Readers,
I've asked myself this question dozens of times & now I need your opinions.
If you look here:
Calico Mountain horses
you'll see many up for Internet adoption.
Look carefully, though, at the young gelding number 1143 and the mare I've been calling Ghost Dancer #0832.
Here's the question: Don't they have amazingly similar conformation? You'll have to look at he full body photos to really see it.
I'll have an update on the Tuscarora mustangs, soon.
Short story: BLM got the go-ahead to round up the horses, but they have to let the press and public watch.
Reading rocks.
Round-ups don't.
Terri
Labels: BLM online adoption, calico horses, Tuscarora round up
Permalink to this blog post
Posted by Terri Farley @ 4:51 AM
2 comments


---
Thursday, July 15, 2010
Honesty Rocks!
Dear Readers,
As a plaintiff in the lawsuit to halt the BLM's deadly winter round-up of the Calico Mountain mustangs, I sat in Federal Court in Washington, D.C. and heard Judge Friedman recommend against the round-up. BLM did it anyway. There were no consequences.
Earlier this week, in Federal Court in Reno, Nevada, Judge Larry Hicks recommended BLM halt the deadly summer round-up of the Tuscarora mustangs before the court hearing today at 2:30 pm. BLM Director Bob Abbey ordered the round-up proceed this morning at dawn, but the court caught wind of it. This time, Judge Hicks acted, as you can read below:

Judge Grants Temporary Restraining Order So Wild Horse Suit Can Be Heard


BLM Director Abbey's attempt to resume roundup prior to hearing blocked
Reno NV (July 15, 2010)—The Cloud Foundation learned that United States District Judge Larry R. Hicks yesterday granted an immediate injunction preventing continuation of the Tuscarora Wild Horse Roundup in NE Nevada by the Bureau of Land Management (BLM) until further order of the court. Cloud Foundation Herd-Watch Program Coordinator Laura Leigh filed a
Temporary Restraining Order
(TRO) to halt the already fatal Tuscarora Roundup in Elko County Nevada on July 12. One dozen wild horses, including three foals, have died as a result of the BLM's July 10 roundup of 228 animals staged on private land with public oversight prohibited. Originally BLM Director Bob Abbey suspended the roundup until July 18 but the court learned late yesterday that Abbey had authorized roundup crews to resume the removal operation eight hours before the scheduled hearing. Based on this change in BLM's position, Judge Hicks granted Leigh the TRO.
The hearing for Laura Leigh v. Ken Salazar (3:10-cv-00417-LRH-VPC) will be held Thursday, July 15 at the US District Court, 400 S. Virginia Street in Reno, beginning at 2:30 p.m.
And I'll be there.
Honesty rocks,
Terri
Permalink to this blog post
Posted by Terri Farley @ 7:20 AM
1 comments


---
Tuesday, July 13, 2010
BLM: TELL THE TRUTH & YOU WON'T HAVE TO REMEMBER THE LIES
photo by SacBee photographer LEZLIE STERLING
A white stallion looks over his wild mustang mares on Bureau of Land Management land near Susanville.
Dear Readers,
Despite the hot weather deaths of this weekend, BLM still plans to round up 6,000 wild horses by summer's end.
The BLM said it plans to conduct the summertime "gather" of 2,300 horses and 280 burros from the Twin Peaks area in northern California (home to the small herd in the photo above) to
avoid doing it later in the fall, when it would conflict with deer hunting season.
Readers, I guess I'm getting suspicious and skeptical because I just bet the reason for this round-up will change before long. BLM will say they're "gathering" for the horses' own good, or range protection, just as the Tuscarora horses were dying of thirst this week. Last week the Tuscarora mustangs were being gathered for knocking down fences.
BLM, here's a tip: TELL THE TRUTH AND YOU WON'T HAVE TO REMEMBER THE LIES.
Hugs to you with humane hearts,
Terri
Labels: BLM death statistics, deer hunting, knocking down fences, mustang, Twin Peaks, wild horse deaths
Permalink to this blog post
Posted by Terri Farley @ 7:03 PM
3 comments


---
Monday, July 12, 2010
SEVEN HORSES DEAD ON DAY ONE
photo by Terry Fitch
Straight from the Horse's Heart
Dear Readers,
Last Thursday we talked about the callous & foolhardy nature of the Tuscarora roundup. Thousands of Americans begged BLM not to go forward with this plan.
But they did.
"The roundup was halted Sunday morning after four horses were found dead in the pens and several others showed signs of colic and brain swelling. Seven horses eventually died."
BLM blames a pre-existing condition, but why didn't the horses DIE of dehydration until they were stampeded across the desert in searing heat, then slammed into pens? Oh, and that horse that had to be shot because of a broken bone? Shrug, who knows?
If you can stand to read more, read the BLM press release below.
BLM Nevada News
NEVADA STATE OFFICE No. 2010-024
BUREAU OF LAND MANAGEMENT
For immediate release: Monday, July 12, 2010
Contact: Heather Emmons, 775-861-6594, heather_emmons@blm.gov

BLM Temporarily Suspends Tuscarora Wild Horse Gather

Reno, Nev.–The Bureau of Land Management announced today that it is temporarily suspending the Tuscarora wild horse gather operations in Elko County, Nev., after BLM staff determined that gathered horses were dehydrated after seven gathered wild horses died from dehydration-related complications because of insufficient water in the area. The BLM also announced that the Tuscarora gather operations, aimed at removing horses from overpopulated herds, will remain on hold until an assessment has been completed to determine how to best proceed in light of the current condition of these horses.

"Our agency is committed to the humane treatment of wild horses and burros, both on and off the range," BLM Director Bob Abbey said. "Toward that end, I am suspending further Tuscarora gather operations until the situation concerning the initial stage of the Tuscarora gather is analyzed and thoroughly understood, and the options for minimizing mortality of horses weakened by dehydration can be assessed."

The Tuscarora wild horse gather encompasses the Owyhee, Rock Creek, and Little Humboldt Herd Management Areas (HMAs) located in northern Elko County . The BLM initiated gather operations in the northern portion of the Owyhee HMA at 6:30 a.m., Saturday, July 10. By 9 a.m., the BLM contractor had gathered 228 wild horses, consisting of one group of approximately 32 horses located within a mile of the on-site temporary holding corrals, and a second group of approximately 196 horses located about eight miles from the corrals.

On arrival it was noted the horses were "drawn up," or lacking fill from water. They were, however, generally in good body condition with most scoring 4 to 5 on what is known as the Henneke body condition scale. The horses were provided with hay and water through the afternoon and evening. One horse was euthanized shortly after being gathered due to a fractured leg that occurred in the temporary holding corrals.
The morning of July 11, four horses were found dead in the pens and several horses were exhibiting signs of colic and brain swelling which was subsequently attributed to water starvation/dehydration and subsequent water intoxication. Gather operations were stopped at that point, and BLM staff, specialists, the gather contractor and the on-site U.S. Department of Agriculture veterinarian began treating the horses. So far, seven horses have died from complications related to water starvation/dehydration or subsequent water intoxication. It was determined this was a direct result of a lack of water in the immediate areas occupied by the horses. The BLM brought in extra water, tank trucks and troughs to the temporary holding site to ensure that all gathered animals have ample water available. Electrolytes were provided in each pen and affected animals were examined and treated as indicated by the veterinarian on site.

The private contractor conducted an aerial flyover of the immediate area Sunday morning, July 11, and located two large bands of wild horses. One band, approximately 100 to 150 horses, is staying close to a nearly dried-up water hole. The second band, approximately 150 to 200 horses, is located approximately eight to 10 miles from the nearest water source. Both of these bands are presently at risk of mortality from dehydration if they do not reach other water sources. The BLM is unable to bring water into this area because the area where these bands are located is not readily accessible by road. The BLM will carefully monitor the two bands of horses during the next few days to determine whether they are independently moving to other water sources or can be encouraged to reach such waters on their own. The BLM will also continue to provide food, water and veterinary care for the animals in the on-site temporary holding corrals.

As more information becomes available it will be posted at the website: http://www.blm.gov/nv/st/en/fo/elko_field_office/blm_programs/wild_horse_and_burro/owyhee_rock_creek.html. For further comments and questions, the public may call 1-866-468-7826.
Labels: BLM roundup, dead horses, Tuscarora
Permalink to this blog post
Posted by Terri Farley @ 6:41 PM
1 comments


---
MARCO PANIOLO !
Dear Readers,
Want to go on a quick Hawaiian vacation?
I watched the video in the story
PANIOLO* POLO
and it returned me to the only polo match I've ever watched.
My strongest memories:
... cordial people who were only too glad to explained the sport to me
...the mingled scents of beach, flowers, smashed grass and horses!
...realizing one of the internationally famed polo ponies (had his own stall on a jet which takes him to Argentina, Europe, etc. to compete!) was a Quarter Horse bred on Dahana Ranch where I do my WILD HORSE ISLAND research
...a big Tongan exercise girl -- over six feet tall -- with a thundercloud of black hair, who was an Amazon** queen in the saddle. The horses LOVED her!
Enjoy,
Terri
* Paniolos = Hawaiian cowgirls/ cowboys. They pre-dated mainland cowboys by about 50 years
** before Amazon became synonymous with online sales, AMAZONS were known in Greek mythology as a tribe of warrior women and Hippolyta was their queen. Her name means "freer of horses" !
Labels: Amazonian, Hawaii, Hippolyta, paniolo, polo
Permalink to this blog post
Posted by Terri Farley @ 7:43 AM
0 comments


---
Sunday, July 11, 2010
SLAUGHTER AUCTION final score ---
Fallon Livestock Exchange horse pens
HORSE ADVOCATES: 174
KILLER BUYERS: 0
Dear Readers,
Saturday 174 "privately owned" (ungentled, un-halter broken,looking a whole lot like mustangs)
ranch horses
were put up for sale at the Fallon Livestock Exchange where horses are often sold by the pound. You know what that means.
HOWEVER -- wild horses advocates wasted no time stirring up the media and contacting rescuers like Jill Starr's LIFESAVERS, WILD HORSE MENTORS, LET 'EM RUN FOUNDATION, WILD HORSE SPIRITS, the CLOUD FOUNDATION, and many others.
With fingers crossed, funds raised, lots of hope, prayers and backbone -- horse advocates faced off with slaughter middle men and WON!
If you'd like to read a report by Willis Lamm (he organized the convoy of horse trailers to get the horses AWAY from the auction groups asap) & see photos of the horses saved, please check this out
Pilot Valley Horses Rescued
INVESTIGATIONS INTO WHETHER THESE ARE WILD HORSES will continue.
Keep the faith, all!
Terri
Labels: Cloud Foundation, equine slaughter, fallon livestock exchange, Jill Starr, wild horse mentors
Permalink to this blog post
Posted by Terri Farley @ 3:05 PM
2 comments


---
Friday, July 09, 2010
MY GIRLS?
Dear Readers,
Soon I'll have the chance to bid on these two Calico gals -- in human terms I call them Ghost Dancer and Shell Flower -- and see that they're safe in a sanctuary until (fingers crossed) they can be returned to their home range.
If you're thinking of bidding on either of them during BLM's Internet adoption, please get in touch so that we can chat!
I will be out of computer range until Sunday, but I'd love to hear from you.
Best,
Terri
Permalink to this blog post
Posted by Terri Farley @ 9:40 AM
1 comments


---
Thursday, July 08, 2010
BLM Helicopter Roundup To Begin Tomorrow?
photo by Terry Fitch
Straight from the Horse's Heart
Dear Readers,
If the Tuscarora round-up of 1,400 mustangs begins tomorrow, BLM will be violating their own rules that protect wild horse foals!
BLM's 2010 Handbook states that BLM
MUST WAIT SIX WEEKS AFTER THE END OF FOALING SEASON
to avoid hot weather danger to babies.
BLM defines foaling season as March 1-June 30. They're starting more than a month early!
"If allowed to go forward this will be a massacre," says Anne-Marie Pinter. She rode the Pony Express route through the area on her Spanish Mustang and reports, "...our event veterinarian strongly recommended that we put thick rubber boots over the metal shoes of our horses."
Readers, I've ridden this terrain. It can be treacherous at a measured walk.
How coordinated and careful would you be if you were running for your life, fleeing a loud, lowering monster?
Rememer the foals whose hooves were literally run off during the snow and ice Calico round-up?
Remember BLM's statement,then, that winter round-ups were so much better than summer ones?
They said:
"Not only are young foals in summer months more prone to dehydration and complications from heat stress, the handling, sorting and transport is a stress to the young animals and increases the chance for them to be rejected by their mothers. By gathering wild horses during the winter, stress associated with summer gathers can be avoided."
So, Summer round-ups are dangerous. Unless, you know, BLM changes it's agengy opion. And numbers.
Curious about the "need" to round up 1,400 wild horses? BLM claims they knocked down some livestock fences.
Many Calico mustangs died even when humane observers stood alert with cameras during the winter round-up.
For the Tuscarora round-up, NO HUMANE OBSERVERS WILL BE ALLOWED.
What does BLM have planned that necessitates LOCKING OUT THE PUBLIC from the range as well as the AIR SPACE except for a single media day?
Call NEVADA Senator Harry Reid's Washington, D.C. office FRIDAY MORNING and ask him to stop the Tuscarora (pronounced TUSK UH ROAR UH) Round-up.
202-224-3542.
If you'd like to offer a solution, ask that all wild horse round-ups be halted until BLM can be investigated by an INDEPENDENT agency.
Nervous about calling? Ask yourself what you stand for, then start dialing!
Permalink to this blog post
Posted by Terri Farley @ 6:57 PM
2 comments


---
Tuesday, July 06, 2010
BP + BLM = Disaster
Dear Readers,
The first few emails I read this morning have made me feel like I'm on a roller coaster.
Terrible but not surprising news --
Emmy award winning TV reporter George Knapp has uncovered information that BP --yes, the same
British Petroleum
which is ruining the Gulf of Mexico and the beaches of many Southern states, is working with BLM to remove wild horses from oil-rich areas.
I think I already told you that Undersecretary of the Interior Sylvia Baca has worked in high level positions for British Petroleum over the past decade.
The good words came from a reader who works for an equine rescue. When I told her I planned to take a closer look at 175 unbroken horses offered in a special sale at a nearby livestock auction, she said:
Just remember that given the chance they would do anything for you not because they have to but because they want to.
Best to you all,
Terri
Labels: BLM, BP, Sylvia Baca
Permalink to this blog post
Posted by Terri Farley @ 8:09 AM
2 comments


---
Sunday, July 04, 2010
HAPPY INDEPENDENCE DAY!
Appreciate, love and be faithful to what we have, but NEVER stop making it better!
Permalink to this blog post
Posted by Terri Farley @ 2:17 PM
0 comments


---
Saturday, July 03, 2010
Calico Curly says...
photo of a Calico Mountains curly horse, in captivity
, by Cat Kindsfather
Dear Readers,
Last chance to sign up for my free e-newsletter before the July issue comes out.
It has some wonderful photos and a newsletter-only contest announcement which ends at midnight July 4th!
Sign up here:
PHANTOM STALLION newsletter
Best,
Terri
Labels: Calico curly horses, newsletter
Permalink to this blog post
Posted by Terri Farley @ 4:50 PM
0 comments


---
Friday, July 02, 2010
July 4th Mustang Parade in Las Vegas
PRESS RELEASE:
For more information please contact: Arlene Gawne artistfromafrica@hotmail.com
The BLM is on the rampage this summer – removing 10,000 more wild mustangs from OUR public range – perhaps more than ½ of America's wild horses. We invite you, and anyone you know with a love of horses, to
join us on July 4th to drive the Las Vegas strip in our vans, trucks, cars and horse trailers decorated with gorgeous wild horse banners and red/white/blue flags to let America know that we are in imminent danger of losing our wild mustang heritage!
The OUTRAGE: The BLM is using OUR tax money to deprive us of the privilege of seeing wild horses running free on OUR public lands. They round up entire family bands with helicopters, castrate all the stallions, separate the families forever, transport them to pens in the Midwest & imprison them to the tune of 3.3 million tax dollars a month! Meanwhile cost-effective, on-the-range management strategies are ignored by the BLM. Learn the whole story at www.wildhorsesneedyou.com
Permalink to this blog post
Posted by Terri Farley @ 8:57 AM
0 comments


---
Thursday, July 01, 2010
To Better Serve You: KEEP OUT!
BLM is locking up 27,000 Nevada acres of public land from July 6 - 31, "to help ensure the safety of the public, contractors and government employees, and wild horses" as they strip the range of all but a handful of mustangs.
Your lands and your horses will be off limits, but don't worry, BLM says you'll "have the
opportunity
to attend the gather on specifically scheduled and escorted visitation days."
Semantics note: replace "opportunity" with
RIGHT
, that's what makes those thousands of acres public lands.
Labels: BLM round ups
Permalink to this blog post
Posted by Terri Farley @ 7:39 AM
1 comments


---